Health
Baby & Toddler
10 Excellent Health Tips for Your Children And Family – A Proper Nutrition Advice
10 Excellent Health Tips for Your Children And Family: Raising a family isn't always an easy task. The busy lives force us to pay more attention to nutritional benefits. In the 21st century, most of us are overweight or underweight due to the different psychological strains we go through. Besides, we also tend to skip meals and start including fast foods.
The count of diabetes, heart disease, asthmatic, and blood pressure patients have also raised a lot. Parents usually fail meeting up with the nutritional requirements of the children.
In this blog, we will discuss some nutritional strategies and family nutrition advice for kids that will help combat such problems up to a certain extent.
The Dreadful Side of Malnutrition
Malnutrition comes inclusive of undernutrition and overnutrition. Undernutrition leads to less energy and interest in learning attaining abilities or special co-curricular activities and so on.
Undernutrition affects physical-mental growth, academic performance, body weight, height, and almost everything else.
Again, overnutrition leads to obesity that increases the risk of cardiometabolic diseases. Besides, obesity forces people to lose interest in joining physical activities or mixing with people around them. There's a huge importance of childhood nutrition in our stressful lives.
Now, it's time to talk about the Nutritional Advice for Kids
1. Start Respecting What Your Child Loves
When you find that your child is interested in a certain food, you have to see the nutritional benefits and side effects of that food. However, it's not good to continue entertaining him if it's not up to the mark.
Again, when your child isn't feeling hungry, you shouldn't force him or her to have a certain food. Rather, you should look for alternatives that will create interest in him or her.
Mealtimes often become a matter of anxiety and frustration for the children because they do not find interest in eating what is served. It's good to serve a small portion. You should talk to your child asking about liking and disliking related to food.
2. Make a Routine For Serving the Balanced Diet
You must not develop a habit of skipping meals. You must always serve the dishes according to the routines of the day.
Some parents try skipping breakfast and keep the lunchtime between 11:00 a.m. to 12:00 p.m. to cover up the breakfast and lunch together. But, this is an unhealthy practice.
You should serve the optimum amount of nutritious food at every meal. Accompanying  Milk or juice between the meals and snacks also helps.
However, refrain from serving too much juice, milk, or snacks that make the child lose interest in having whole meals.
3. Try Out New Foods That Your Kid Suggests
You must listen to what your child has to say about something that sounds to be new food to you. You must not yell at him or her. Rather, go through the information on whether or not that food is good for health.
If you find information about some new food by yourself that will pose nutritional benefits for your child, it's good to encourage your child by talking about its color, shape, texture, aroma, and how tasty it seems to be. In this way, the child starts becoming familiar and getting interested in trying out.
4. Don't Undercook or Overcook
Cooking the food at the optimum temperature is essential to hold the nutritional benefits. Overcooking creates a loss of essential nutrients while undercooking leaves raw parts on the platter besides if you find your child is constantly skipping meals, try engaging him or her by serving something that they like.
5. Make Eating Habit a Fun
When you're serving broccoli and veggies, add some dip or sauce. You should also cut the vegetables into various shapes before serving them. Brightly colored foods are sometimes more attractive.
6. Allow Your Child to Choose the Foods At the Grocery Store Sometimes
Once again, we must remind you to not force the child. Allow him or her to choose the veggies. Now the cooking standard depends upon you. You must look for the cooking conditions that will work better.
7. Set a Good Example Regarding the Foods.
So what to do to make food a good example? You must sit next to him or her and have it. Seeing you, your child will feel more interested.
8. Be Creative In Cooking Your Dishes
You should decoratively chop the vegetables and meat. Cook them sometimes with spaghetti sauce. Sprinkling some toppings, and fruit slices make them more attractive.
9. Start Minimizing the Distractions Around Your Child
If you have the habit of entertaining your child while the meal is served, stop that immediately.  You must never develop in him or her that habit of enjoying meals just because the television or other electronic gadgets are there to entertain.
10. Stop Serving Sugary Desserts As a Reward
It might seem funny and silly at first glance. But, trust me, these sugary desserts regularly are welcoming the chances of juvenile diabetes. Just pick one or two nights for serving desserts. On the other days, serve yogurt or fruit salads as desserts.
The Basic Importance of Childhood Nutrition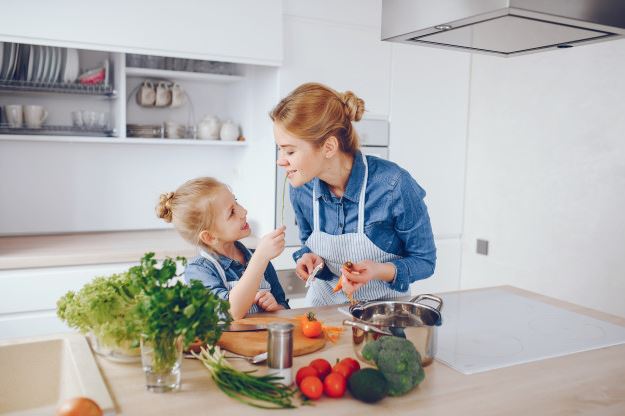 Irrespective of age, Nutrition is a must. Child health and nutrition have a very close connection. To stay healthy, mentally, and physically strong, and growing up healthy, there's a basic requirement of developing good eating habits and nutritional knowledge. Again, proper Nutrition boosts Academic Performance. Monitoring the nutrient intake of the child becomes essential for enhancing the performance at academic levels.  Proper nutrition reduces the chances of getting exposed to cancers of the oesophagus and other disorders. 
A Glance At the Child Nutrition Chart
This is the customized child nutrition chart that will make serving food easy.
| | | |
| --- | --- | --- |
| Nutrient type | Foods | Recommended amount |
| Carbohydrates | Cereals and grains | 33% |
| Minerals and vitamins | fruits and vegetables | 33% |
| Milk | Milk, and by-products | 15% |
| Meat | Fish, meat, and eggs | 12% |
| Fat | Fatty foods and sugary items | 7% |
Let me give you a brief idea about the health tips for school students.
Some Quick Health Tips For School-Goers
School-going children must take a balanced diet during their meals. They should see that they have a proper portion.
Mixing the meals should never be done.
It is essential to take vitamins and limit the intake of desserts and sugar items.
School going children should exercise regularly instead of spending leisure time indoors. Sports and jogging sometimes help.
Proper sleep is essential for maintaining health conditions. After a stressful day, it is essential to take naps between the daily routine.
One should refrain from studying in the beds. Choosing a study room with a proper table and chair set up helps to maintain the schedules along with the leisure period. It will also help the body to stay away from illness.
One must avoid waking up all night and studying. It's better to return from school and start utilizing the time.
These days, education has become a stressful endeavor for students. One should not take stress and should enjoy the learning.
Childhood is the period of the overall development of the human being. The establishment of physical and mental abilities demands the optimal dietary requirements as well as nutrition to assist growth and development. So, always pay more care towards health more than anything else.
For more health related updates click here now!