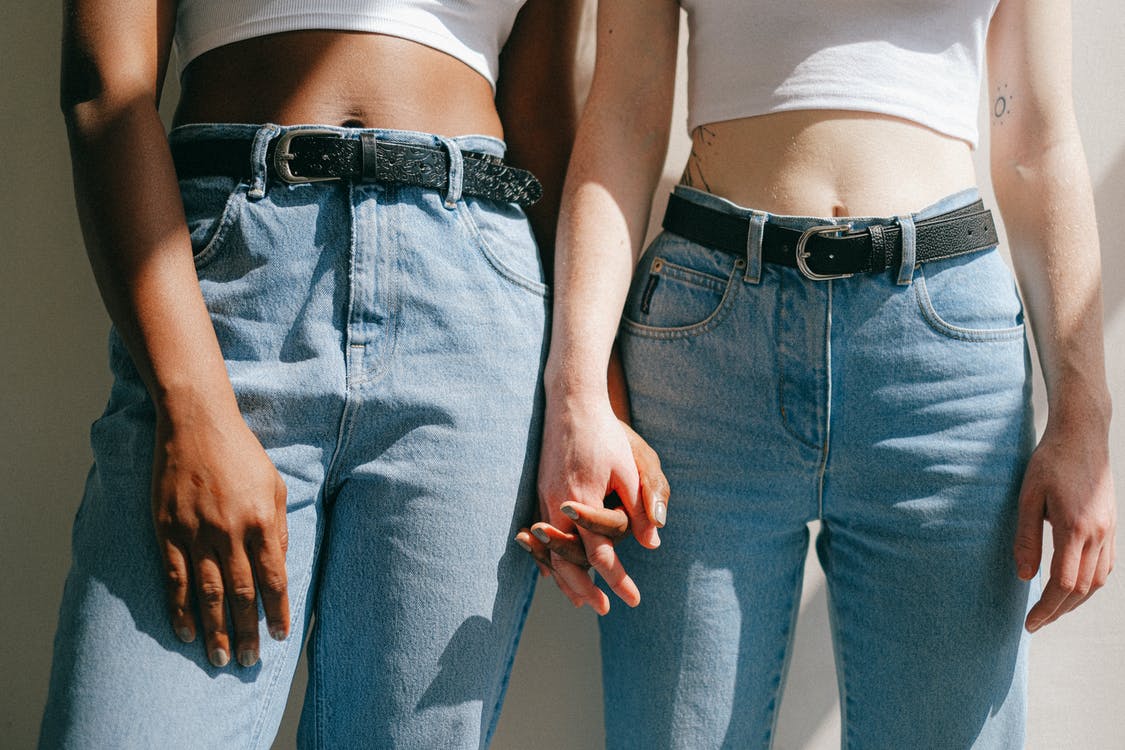 Fashion is a fast-changing landscape, where trends come and go all the time. While people believe that the newest fads will make them look better, it's just a ploy of corporations to capitalize on human insecurities. They entice the audience with catchy content, and people start buying until their closet is full of clothes they don't even need. Having a diverse wardrobe to match various occasions is great, but one must make sure the clothes they are picking are actually comfortable and usable.
Denim is a standard cloth and one of the wardrobe essentials. However, people are unaware of its various cuts and styles and just buy the next best thing they see on a store dummy. It isn't necessary that what suits the dummy will look just as good on you. Jeans come in many different styles and cuts, so pick one that suits you best and complements your body type. 
People feel their most confident when they dress in a way that expresses who they are. Shopping for a high waist or slim fit doesn't mean hiding your stomach or making your legs look more skinny. The key is to find jeans that complement your body. 
There Is No Ideal Body Type
The first step in finding your personal jeans style is knowing that you're not trying to imitate anyone's look. You can't create the illusion of an ideal body since every shape has its own positives. Attractiveness is subjective, like someone's taste in music or film. So, dress in a way you love. It doesn't matter if you're wearing long inseam jeans to show off your heels or plus size bootcut jeans to show off your curves. What matters most is impressing the woman in the mirror. Everyone else's opinion is secondary.
Figuring Out Your Body Type
Just as a photographer might use gridlines to take a picture, you want to know your body type. Finding the balance is the key. Draw an imaginary line down the middle of your body, then focus on three points: shoulders, waist, and hips. Determine your body type by measuring the distance between these points and the middle of your body where you drew the imaginary line. 
Generally, there are five types of body shapes: oval, triangle, inverted triangle, rectangle and hourglass. Although it's OK to estimate your body type, you can use the help of health calculators to find out your exact body type. It will help you make an informed choice the next time you walk into a store.
The Right Level of Rise
The same way a soufflé can rise the perfect amount, so can jeans. Jeans come in three types: low-rise, which sits about two inches below the navel; mid-rise, which almost reaches your navel; and high-rise, which will cover the navel.
Low-rise jeans were quite popular in the early 2000s. These jeans are best for people with small torsos since they balance the body and draw attention away from the midsection. 
Mid-rise jeans are the most figure-friendly and go with most tops. You can pair them up with crop tops or baby tees and show off a toned midriff. Whereas a cropped mid-rise can help your legs appear longer.
High-rise jeans are also very popular as they easily fit into casual or business informal attire. Women with hourglass and triangle shapes look great in high-rise jeans. You can wear these jeans regardless of whether you suffer from bloating, you have FUPA, or you are just working your way to a slimmer stomach. The jeans will give you a small boost of confidence so you can continue working.
Finding the Perfect Fit
Your jeans are like a puzzle, and some pieces just need to be put together. Let's figure out what works best for you.
     

Straight Leg
Straight-fit jeans offer the most relaxed look and add a laidback vibe to your outfit. You can also easily go around shopping for hours wearing straight-leg jeans and not feel exhausted in the lower body. They go best with rectangular body types but also work with pear and hourglass shapes.
     

Boyfriend Jeans
The best option for people with an inverted triangle body shape is boyfriend jeans. If you have broad shoulders, a distressed, grungy look will be great on you. Whereas a looser fit will help your hips look larger. It's not just the hoodies and t-shirts you need to steal from the guys' section; it's the jeans too.
     

Bootcut Jeans
Wide hips have become the new beauty standard over the past few years, and bootcut jeans are a great way to show them off. Flaring out around the ankles, they fit snugly around the hips and thighs. You can pair them with low-heeled boots, which are also going to accentuate your curves. Many brands are making boots with stretchy waistlines now, so it's a win-win for everyone. 
     

Skinny Jeans
Skinny Jeans are not just for models. 
People who feel too thin often opt for skinny fits. Being underweight can have the same effect on one's self-image as being a bit overweight, so it can help turn one's 'weakness' into a strength. 
To create a stylish look, wear skinny jeans with loose-fitting tops. You can often spot Zendaya, the youngest Emmy Award winner sporting this look. A pair of form-fitting jeans or clothes can be a great way to complement your height if you are tall and athletic. 
Final Thoughts
For emphasis, let's reiterate: you have a perfect body type, but the wrong piece of clothing can make it seem imperfect. Follow the flow of your curves, whether they're pronounced or subtle. Hopefully, our guide has helped you pick out a pair of jeans that show off your best features. The way you dress is a method to control how the world looks at you. While it's a powerful thought, it shouldn't stop you from having fun. Now, if you find a pair of jeans with pockets, you won the lottery and can lord it over everyone around you.